Just announced onstage at Market America 2012 International Convention in Greensboro, the newest health & nutrition products from Market America are some of the most amazing we've introduced over the last 20 years.
Prime Vision
Following the recommendations from the recent Age-Related Eye Disease Study 2 (AREDS2), we are proud to introduce Prime Vision, containing recommended amounts of the most advanced eye health ingredients, including FloraGLO Lutein.
Opuvita
An all-natural, preservative-free exotic fruit fusion, Opuvita reinvigorates your body. Each sip benefits your heart, joints, immunity, positive body image and more, promoting overall wellness from head to toe.
Isotonix Champion Blend Plus
Delivering key essential nutrients for muscle performance, antioxidant defense and increased energy, Isotonix Champion Blend Plus is perfect for everyone. From the professional athlete to the weekend warrior to anyone looking to support general wellness, everyone can feel like a champion.
Heart Health Essential Omega III Fish Oil with Vitamin E — 30-day supply!
Proven heart health support now comes in a 30-day supply! The new 60-count nutraMetrix® Heart Health™ Essential Omega III Fish Oil with Vitamin E continues to provide 3000 mg of fish oil for superior cardiovascular benefits.
Isotonix Daily Essentials Kit
There's nothing more important than taking care of yourself on a daily basis. With the Isotonix Daily Essentials Kit, you can be sure that you're giving your body the essential vitamins, minerals and nutrients it needs thanks to four essential supplements – Isotonix OPC-3, Isotonix Multivitamin, Isotonix Activated B-Complex and Isotonix Calcium Plus – to promote long-term health and optimal nutrition.
Prime Advantage Anti-Aging Kit
Be a pro-active adult with the Prime Advantage Anti-Aging Kit, which combines three superior anti-aging products – Ultra Prime Secretagogue – HGH Enhancer; Prime Joint Support Formula by Isotonix; and Prime Ultimate Longevity Formula by Isotonix . Stay active, stay strong and stay healthy to keep doing the things you want to do.
According to the latest reports, Americans are smarter and better informed about their health than ever before, and the use of dietary supplements is on the rise as a result. The Council for Responsible Nutrition issued a report today, indicating that overall use is up to 69 percent.
This figure represents an even split between 64 percent of men and 74 percent of women surveyed in a group of 2,015 adults. Since 2008, the amount of people who use dietary supplements has been on an increase of just over one percent per year, with people who describe themselves as regular users of multiple products increasing at double that rate–from 22 percent in 2005 to 36 percent today.
As far as popularity was concerned, the vast majority of users selected a multivitamin as their primary choice, citing reasons related to overall health and wellness and bridging nutritional gaps as their main motivation. Specific "letter" vitamins–notably Vitamin D, Vitamin C and the B-complex vitamins–also showed a marked increase in use.
In terms of specialty supplements catering to particular health interests, Omega 3 fish oils showed a pronounced increase, followed by glucosamine and chondroitin supplements related to joint health. As regular detoxifying and cleansing practices  continue to be promoted, fiber-based supplementation also showed respectable popularity.
The Senior Vice President of Communications at CRN, Judy Blatman, reported that "As more consumers are educated about the role vitamins and other supplements play in their overall health and wellness, they are incorporating them into their lives along with other healthy practices such as trying to eat a healthy diet and getting regular exercise."
With people living longer and better than ever before, the use of supplements to support these lifestyles becomes more important. As awareness of the power of practical nutrition continues to grow, these numbers are certain to as well.
In nutrition—more than many other areas—it is sometimes too easy to place flash ahead of substance. Everyone likes to see, talk and think about the newest research and the latest innovations. While this is understandable—newer things are naturally more likely to generate a lot of excitement and energy—a little perspective goes a long way. Sometimes the things that can give us the needed energy are already in reach.
The B-complex is a group of eight vitamins, which include thiamine (B1), riboflavin (B2), niacin (B3), pantothenic acid (B5) pyridoxine (B6), biotin (B7), folic acid (B9), and cyanocobalamin (B12). These vitamins are essential for the breakdown of carbohydrates into glucose, which provide energy for the muscles and brain. The B vitamins also aid in amino acid metabolism and act as coenzymes—compounds that unite with a protein component called an apoenzyme to form an active enzyme. These active enzymes are catalysts in the chemical reactions that transfer all available energy from food to the body. This is part of why the B-complex has come to be known as "the energy vitamin".
The other feature of B vitamins which helps them earn this name Read the rest of this entry »
One of the luxuries in life is to be able to get anything you want, customized to fit their needs.  Think of buying a car. You can buy right off the lot and get what the dealer is providing you if you'd like. But if you want the car YOU want, there are options, features and colors to choose from – all to match your personal wants and needs.
So why should your supplements be any different? Market America has worked to make customized nutrition available to everyone based on their wants and needs.  That was the topic on Saturday afternoon at Market America 2011 Product Symposium.
Contributed by Rachel Dillard / Market America Product Management team
Market America 2011 Product Symposium kicked off Friday morning in Greensboro, and what better way to begin than getting back to the basics?
That was the focus of this morning's session, as the Market America team, led by Director of Product Management Tanya Smith, discussed with nearly 600 attendees the fundamentals behind some of Market America's most popular products: Isotonix OPC-3®, Isotonix® Multivitamin, and Heart Health™ Essential Omega III Fish Oil with Vitamin E.
You're trying to cut down on stress at work. You're attempting to lose weight for the big day. You're staying fit to keep up with your grandchildren.
The reasons behind living a healthier lifestyle are just as important as the means to accomplishing those goals. It's what makes your story unique; it's what makes you stand out from the crowd.
Now, we want to hear your story. With My Life, My Products, Market America is giving you a chance to share your unique story and tell everyone how Market America's Health & Nutrition products are helping you achieve those goals.
You'll be able to share with us your unique Health Mission Statement and how Market America's health & nutrition, anti-aging and Transitions Lifestyle System® products are helping you meet that Health Mission Statement.
My Life, My Products profiles will be used to share your stories and help others see how Market America products can help write their own story of optimal health. We might even include your story in a future campaign!
Please download and fill out the forms (including a picture) and email them to mymaproducts@marketamerica.com.
We look forward to hearing your story!
Market America 2011 World Conference had some great moments. There were some exciting announcements from founder and CEO JR Ridinger and great new products from Prime™, Motives® by Loren Ridinger and the new solutions-oriented personal care product line Fixx™.
There was also a very clever video piece touting the benefits of Isotonix®, the world's most advanced nutraceuticals. For those of you who weren't in Miami, here's what everyone in attendance got to see: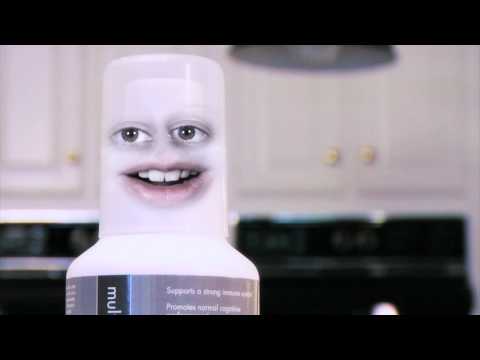 So, Isotonix fans, what do you think? Any suggestions on what we should work on next?
Market America just wrapped up its 2011 World Conference in Miami. And what a week it was! New products, great announcements and plenty of excitement! Here's a quick recap from Isotonix and your favorite health & nutrition brands:
New products: Isotonix Activated B-Complex and Ultimate Aloe Powder are now available for purchase! Plus, Prime Prostate Defense Formula was introduced and will be available shortly. For more about these products, see our post from MAWC.
Isotonix Custom Cocktail update: We've introduced new features and enhancements to the Isotonix Custom Cocktail, including Isotonix Specialty Cocktails, nutraMetrix Isotonix Custom Cocktails for HPs, and the ability to save up to six of your favorite cocktail blends.
Health & Nutrition newsletter: By the end of February, Market America will launch its Health & Nutrition newsletter! This quarterly newsletter will provide you with the latest research and news on Health & Nutrition topics and trends. To sign up for the newsletter, click here.
Transitions CORE introduced: From our friends at Transitions Lifestyle System,Transitions CORE is an innovative product, designed to help manage hunger with the inclusion of LeptiCore®, an all-natural ingredient that promotes weight management. Read more about Transitions CORE and other great TLS news on the Market America blog.
For more updates from Market America World Conference in Miami, check out the updates from Isotonix on Twitter and Facebook from the past week, as well as  other great Market America brands, including:
Prime on Facebook and Twitter
Transitions Lifestyle System on Facebook and Twitter
nutraMetrix on Facebook and Twitter
Yesterday at Market America World Conference, Tanya Smith, the Director of Web Merchandising and Product Development for Market America, announced the release of three great, new health and nutrition products:
Isotonix® Activated B Complex
Prime™ Prostate Defense Formula
Ultimate Aloe™ Powder

Isotonix Activated B-Complex delivers metabolically active forms of several nutrients.  Traditional forms of vitamins B6, B12 and folic acid found in most other B-complex products must undergo chemical changes in order to be utilized by the body, while various factors, such as age, may decrease the body's ability to activate such vitamins. Isotonix Activated B-Complex provides the metabolically active forms of these vitamins in isotonic form, guaranteeing that your body gets the vital nutrients it needs quickly and effectively.  Isotonix Activated B-Complex boosts energy, and helps decrease stress and improve mood.  Like all Isotonix products, you know you're getting rapid absorption, superior delivery, and a product free of binders and fillers found in tablets and capsules.  Let Isotonix Activated B-Complex work for you.
Prime Prostate Defense Formula is a uniquely designed combination of scientifically-proven ingredients that work synergistically to promote optimal prostate health.  Enhanced with innovative ingredients such as saw palmetto and stinging nettle extract, Prime Prostate Defense Formula supports healthy prostate size and function, may help to inhibit mild inflammation associated with the aging process, can help maintain  proper urinary function, and much more!*  Prime Prostate Defense Formula promotes overall prostate health, which in turn supports quality of life.  Take the next step to a healthier prostate with Prime Prostate Defense Formula.
Ultimate Aloe is one of Market America's top-selling products and now it is even better!  Ultimate Aloe Powder is available with all-natural colors and flavors in convenient, individually packaged servings.  Ultimate Aloe Powder promotes immune health, normal healing and digestive health and comfort.
Aloe vera naturally contains over 200 biologically active components.  Ultimate Aloe Powder contains 150% aloe concentrate, and is derived from whole leaf aloe. It retains the quality of naturally occurring Aloe vera through a proprietary extraction process called TotalAloe™, which maintains the nutritive value of the aloe while removing undesirable components.  Ultimate Aloe Powder carries the International Aloe Science Council seal that certifies the Aloe content and purity. Experience the superior results of Ultimate Aloe Powder, whether at home or on the go.
Learn more about these great new products at 8:30 p.m. tonight at our breakout. You can also follow Isotonix on Facebook and Twitter, and Prime on Facebook and Twitter for updates throughout Market America World Conference.
*These statements have not been evaluated by the Food and Drug Administration. This product is not intended to diagnose, treat, cure or prevent any disease.
If you liked our live blog on Day 1 of the 2010 US Product Symposium, we've got a treat for you: We'll be doing it again on Day 2!
Just click this link to go to the page. You can even sign up for an email reminder so you don't miss a single minute of the 2010 US Product Symposium.
Just like on Friday, you'll be able to chat live with me, your moderator for the event, as well as other Market America fans who will be reading about everything that's going on. And don't forget to follow along on Twitter using the #maProducts2010 hashtag!